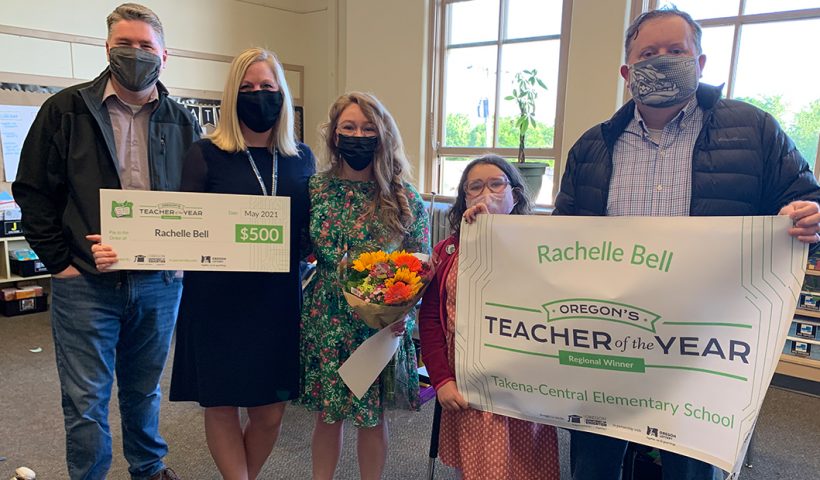 The critical role of teachers has become especially evident as schools have responded to the global COVID-19 pandemic. Teachers have stepped up in countless, innovative ways to ensure students are safe, healthy and engaged to reach their full potential, making this a fitting opportunity to recognize the excellence of Regional Teachers of Year throughout the state!
Central Elementary 3rd Grade teacher Rachelle Bell was named Linn Benton Lincoln's 2022 Regional Teacher of the Year! Ms. Bell wins a $500 cash prize and is in the running for Oregon's 2022 Teacher of the Year, to be announced this fall, as one of 16 regional winners.
"Ms. Bell is an exemplary educator who recognizes the immense learning potential of all students regardless of their ability or diverse backgrounds," Central Elementary Principal Julia Bradley said. "She builds relationships with students while engaging them in tasks that are rigorous, engaging, creative, interactive and motivating. Her passion for teaching and dedication to students and their families is unmeasurable. Ms. Bell is truly a candle that sparks life into every student's heart." 
In a letter to Ms. Bell, the Director of the Oregon Department of Education Colt Gill said "The Blue Ribbon Panel facilitated by Linn Benton Lincoln ESD (Education Service District) was inspired by your commitment to rigor and creativity in your classroom, and building trust and relationships with all of your students."
Central Elementary Principal Julia Bradley, Superintendent Melissa Goff, Director of Primary Education Sue Luthra, and other staff members, along with School Board Vice Chair Michael Thomson and Director Justin Roach, surprised Ms. Bell with the news in her classroom on Thursday morning.
"I was so surprised; it's honestly not something I've been thinking about because I've been really busy trying to wrap up the school year and get things organized for my kids." Bell said. "It's what every teacher dreams about. Even being nominated is such an honor, and I'm just so surprised that I would be in the running to be a Teacher of the Year. If you look at the other people that were nominated they are doing such transformational things in their districts and to even be near them is an honor and privilege."
Bell, who had forgotten about the award as she was working until 10 p.m. last night on a writing unit for her students, has taught at Central for the last five years and has worked for Greater Albany Public Schools for seven years, starting with the district as a third grade teacher at Sunrise Elementary.  
"We are so proud and happy for Rachelle to have received this honor," Superintendent Goff said. "This award recognizes what an outstanding educator Ms. Bell has been for her students and reflects all of the great work our GAPS teachers and staff perform every day."  
Regional Teachers of the Year are nominated by students, colleagues, administrators, friends or family members to apply for the award, and are selected by a diverse panel of regional representatives. Later this fall one of the Regional Teachers of the Year will be named the 2022 Oregon Teacher of the Year.
Thanks to the Oregon Department of Education's partnership with the Oregon Lottery, the 2022 Oregon Teacher of the Year receives a $5,000 cash prize (with a matching $5,000 going to their school!) and serves as a spokesperson and representative for all Oregon teachers. Three finalists will receive $2,000 with a matching $2,000 going to their school. Please visit OregonTeacheroftheYear.org for more information. 
---
Spanish Translation
El rol fundamental de los maestros se ha vuelto especialmente evidente a medida que las escuelas han respondido a la pandemia mundial de COVID-19. Los maestros han apoyado en innumerables e innovadoras formas para garantizar que los estudiantes estén seguros, saludables y comprometidos para alcanzar su máximo potencial, ¡lo que hace que esta sea una oportunidad adecuada, para reconocer la excelencia de los Maestros Regionales del Año en todo el Estado!
¡Rachelle Bell, maestra de 3er grado de Central Elementary fue nombrada Maestra Regional del Año 2022 del Distrito de Servicios Educativos de Linn Benton Lincoln (LBL ESD por sus siglas en inglés)! La Sra. Bell gana un premio en efectivo de $500 y se postula como Maestro del año 2022 de Oregon, que se anunciará este otoño, como una de las 16 ganadoras regionales.
"La Sra. Bell es una educadora ejemplar que reconoce el inmenso potencial de aprendizaje de todos los estudiantes, sin importar su habilidad o antecedentes diversos," dijo la Directora de la escuela primaria Central, Sra. Julia Bradley. "Ella construye relaciones con los estudiantes mientras los involucra en tareas que son rigurosas, atractivas, creativas, interactivas y motivadoras. Su pasión por la enseñanza y su dedicación a los estudiantes y sus familias es inconmensurable. La Sra. Bell es verdaderamente una luz que da vida al corazón de cada estudiante."
En una carta a la Sra. Bell, el Director del Departamento de Educación de Oregon, Colt Gill, dijo: "El panel Blue Ribbon Panel facilitado por Linn Benton Lincoln ESD (Distrito de Servicios Educativos) se inspiró en tu compromiso con el rigor y la creatividad en tu salón de clases y confianza y relaciones con todos tus estudiantes ".
Julia Bradley, directora de la Escuela Primaria Central, la Superintendente Melissa Goff, la Directora de Educación Primaria, Sue Luthra y otros miembros del personal, junto con el Vicepresidente, Michael Thomson y el Director Justin Roach de la Mesa Directiva, sorprendieron a la Sra. Bell con la noticia en su salón de clases el jueves por la mañana.
"Estuve muy sorprendida; Honestamente, no es algo en lo que haya estado pensando porque he estado muy ocupada tratando de terminar el año escolar y organizar las cosas para mis estudiantes", dijo la Sra. Bell. "Es con lo que sueña todo maestro. Incluso ser nominada es un gran honor, y estoy tan sorprendida de estar en el puesto para el premio Maestro del Año. Si miras a las otras personas que fueron nominadas, están haciendo cosas tan transformadoras en sus distritos e incluso estar cerca de ellos es un honor y un privilegio".
La Sra. Bell, que se había olvidado del premio mientras trabajaba hasta las 10 p.m. anoche en una unidad de escritura para sus estudiantes, ha enseñado en la Escuela Primaria Central, durante los últimos cinco años y ha trabajado para las Escuelas Públicas de Greater Albany durante siete años, comenzando con el distrito como maestra de 3er grado en la Escuela Primaria Sunrise.
"Estamos muy orgullosos y felices de que Rachelle haya recibido este honor", dijo la Superintendente Goff. "Este premio reconoce la sobresaliente educadora que la Sra. Bell ha sido para sus estudiantes y refleja todo el gran trabajo que realizan nuestros maestros y personal de GAPS todos los días".
Los maestros regionales del año son nominados por estudiantes, colegas, administradores, amigos o familiares, para solicitar el premio y son seleccionados por un panel diverso de representantes regionales. A finales de este otoño, uno de los Maestros Regionales del Año será nombrado Maestro del Año de Oregon 2022.
Gracias a la asociación del Departamento de Educación de Oregón con la Oregon Lottery (Lotería de Oregon), el Maestro del Año de Oregón 2022 recibe un premio en efectivo de $5,000 (¡con otros $5,000 para su escuela!) Y actúa como portavoz y representante de todos los maestros de Oregón. Tres finalistas recibirán $2,000 y otros $2,000 para su escuela. Visite OregonTeacheroftheYear.org para obtener más información.